86Box v4.0.1
October 16, 2023 - written by richardg867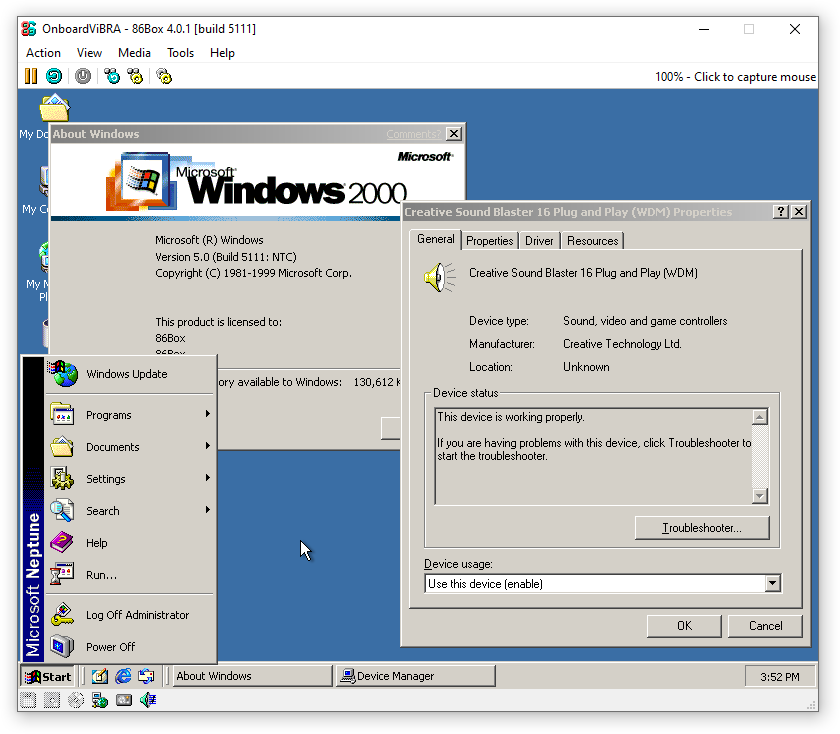 This is the October 2023 update to 86Box, bringing bugfixes over the original v4.0 release, as well as a few new features.
The work-in-progress build currently available to our Patreon supporters will be receiving a v4.0.1 update as well. This WIP build contains a new Local Switch feature for connecting 86Box machines locally or across a network in a plug-and-play, cross-platform way, without relying on PCap or VDE.
---
Important notes
ROM set update
Despite this being a minor bugfix release, the ROM set was also updated to reorganize the growing collection of Plug and Play Sound Blaster cards and fix an issue with the MSI MS-5119 machine. Remember to update the ROM set when updating 86Box, otherwise emulated machines using any of the aforementioned hardware will have it removed.
MSI MS-5119 BIOS update
After updating the ROM set, the MS-5119 BIOS update to fix PS/2 mouse issues is not applied automatically to existing emulated machines using that board. Apply it by deleting ms5119.bin from the machine's nvr directory, then start the machine and check if the BIOS version displayed below the American Megatrends logo is A37EB instead of the previous A37E.
Tertiary and quaternary IDE
Due to a longstanding oversight, previous versions of 86Box had the tertiary and quaternary IDE controllers switch places, using the incorrect I/O port and IRQ resources for their respective channels. This swap has now been fixed; additionally, the tertiary channel provided by Plug and Play Sound Blaster cards is now a quaternary channel. If you use these additional IDE channels, make sure any drives connected to them are placed correctly after updating.
---
Changelog
Emulator
Added Auto-pause on focus loss option
Added 4:3 integer scale option for full screen mode
Added -X/--clear cmos|flash|both command line option to reset the machine's CMOS data and/or BIOS flash
Added -M/--dumpmissing command line option to output a list all machines and video cards for which ROMs are missing
Added -Y/--donothing command line option to output the initial log information then exit
Fixed Discord integration option remaining active if integration is not supported on the host platform
Changed minimum supported configuration file version (machines last used on 86Box versions older than v3.0 final must be loaded on v4.0 or v3.11 first to convert their configuration files)
User interface
Moved on-board device settings from the machine's Configure button to the devices' respective Configure buttons
Fixed on-board sound and network incorrectly selectable as secondary devices
Fixed Softfloat FPU incorrectly available on machines with no FPU
Updated translations: Chinese (Simplified), Chinese (Taiwan), Japanese
Machines
Added Intel CU430HX Socket 7 motherboard (retail version of the Toshiba Equium 5200D)
Added on-board Sound Blaster ViBRA 16 sound to the Intel Advanced/EV and Toshiba Equium 5200D
Fixed MSI MS-5119 PS/2 mouse issues by updating the BIOS
Fixed NCR PC4i memory amount selection glitches
Fixed boot issues with PCI cards on the PC Chips M579 and M729
Fixed Microsoft Virtual PC 2007 crashing the emulator on startup
Fixed Compaq Portable series gas plasma display glitches
Fixed non-functional minimum memory amounts on the Soyo 4SAW2 and Zida Tomato 4DP
Fixed inaccurate BIOS CPU frequency read-outs on several Intel motherboards
Fixed incorrect Planar ID on the IBM PS/2 Model 60 (again)
Changed IBM PS/2 Model 70 Type 4 to require CPUs with a built-in FPU
Changed Quadtel 286 clone to require Softfloat FPU
Hardware
Core

Fixed constant host disk writes caused by applications which actively use the real time clock
Fixed INS and OUTS instruction behavior on the NEC V20 and V30

Display

Fixed ATI Mach32 conflicting with Voodoo cards
Fixed graphics corruption upon switching from interlaced graphics to text mode on Cirrus Logic and Paradise cards
Fixed graphics corruption with Paradise and Trident TGUI cards on specific video modes
Fixed IBM XGA not detected by the XGAKIT tool
Fixed more specific graphics corruption issues on the IBM 8514/A and XGA
Changed Image Manager 1024 to the 8-bit ISA bus (requires a V20 or V30 CPU)

Sound

Added Sound Blaster ViBRA 16C, 16S and 16XV cards
Fixed Gravis Ultrasound MIDI playback issues
Fixed FM synthesis issues on cards with the Yamaha OPL4
Changed IDE channel on Plug and Play Sound Blaster cards to quaternary
Changed ROM locations for Plug and Play and AWE32 Sound Blaster cards

Network

Fixed PLIP crashing the emulator upon sending any packets

Ports

Fixed serial port passthrough setting incorrect host port parameters on Linux and macOS hosts

Storage

Increased the maximum CD-ROM drive count to 8
Added IBM PS/2 SCSI Adapter (Tribble) for MCA machines
Fixed incorrectly switched resources on the tertiary and quaternary IDE controllers
Fixed issues with CD audio track timing on specific cue/bin images
Fixed Adaptec AHA-154xB incorrectly working with later incompatible versions of the DOS driver